COMING SOON!
Introducing our upcoming collection of Botanical Print Scarves, exquisitely handcrafted from the finest silk fibers. Each scarf in this collection features unique, intricate designs that showcase the natural beauty of the flora and fauna of Bali, adding a touch of elegance and sophistication to any outfit.
These one-of-a-kind scarves are created using traditional techniques that have been passed down through generations. Each scarf is made with utmost care and attention to detail, ensuring that you receive a product that is of the highest quality.
The Botanical Print Scarves collection will be launching soon, so stay tuned for updates and be the first to get your hands on these beautiful accessories. Perfect for adding a pop of color and personality to your wardrobe, these scarves are versatile enough to be worn in any season and for any occasion. Shop soon and discover the beauty of botanical prints on luxurious silk scarves!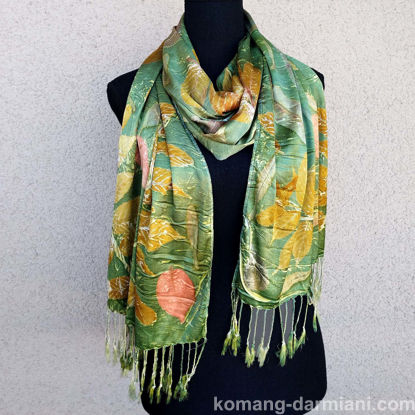 This scarf is made from soft Singaporean Silk. Size approximately 200cm x 60cm
Wrap yourself in the beauty of nature with our stunning botanical print eco-print scarf. Each scarf is carefully crafted using eco-friendly printing techniques and luxurious Singaporean silk, creating a unique and sustainable accessory for any occasion.